ISO 20000
---
A logical extension of data center certification for any customer facing operations is IT Service Management. GDCE provides services as an auditor utilizing the ISO 20000 criteria for conformity assessment of the Service Management System utilized within your organization.
ISO 20000 Certification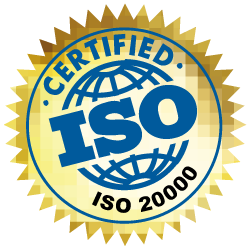 Achieving an ISO 20000 certification for your organization helps potential clients and customers understand that your internal processes are secure, managed, well maintained and continuously improved.
Advantages ISO 20000 Certification
Drives the creation of integrated processes and solutions that are in line with the goals of business objectives and the customers they serve.
Improved productivity and increase in speed to market of new service offerings, while maintaining a high degree of quality.
Establish a continuous improvement culture, which constantly improves process and quality of IT service systems.
Provides a structured approach to service management, supported by best practice which benefits all stakeholders both internal and external, building confidence and trust in client and customers.
Obtaining an ISO 20000 certification demonstrates to your customers and clients that your organization takes IT service management seriously. They have confidence that processes and systems are efficient, and designed with their best interest in mind. Feedback to the process is heard, and customers are more engaged.
The GDCE Difference
Global Data Center Engineering has an experienced team of IT Service Management professionals, with years of practice in the field of ITSM. Our consultants in this field have experience not only with ISO 20000 but also have coverage of ITIL V2 and ITIL V3 Methodology.
Coupled with our experienced consultants and auditors, qualified in the application of ISO 19011 –Guidelines for Auditing Management Systems, we have the capability to provide audit of your ISO 20000 implementation and conduct certification, surveillance and re-certification audits.
Contact us today, and we can discuss how we can help with your certification needs.
---