Facility Certification
---
Nothing brings peace of mind and credibility to the clients and consumers than having your Data Center certified to known, clearly established, world-wide data center design standards.
Whether building a private data center, or selecting a colocation vendor, Facility Certifications to globally accepted standards provide a strong foundation of reliability, availability and resilience expectancy.
Facility Certifications
There are several types of certifications that may improve client, customer and consumer confidence. Design and Facility validations utilizing known industry standards provide a strong foundation for operational excellence. Aligning to standards with a measurable design objective provides an effective baseline by which to benchmark the facility, and underpin further operational improvements.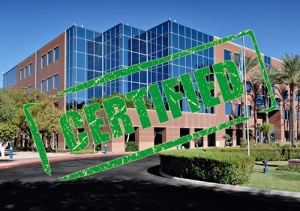 Advantages for Colocation Providers
If your business is colocation, having a data center Facility Certified enables potential customers to see that a qualified third party has reviewed the data center design and facility, and certified it to a globally trusted standard. All too frequently, data center facilities carry a "self-certification". These "Self Assessments" are equivalent to giving the fox the run of the hen-house. With a qualified independent third party validation and certification, the risk to be taken on by the client is reduced.
We have seen the average time it takes to close a colocation arrangement with clients reduced when working with certified data centers, as compared to self-assessed or uncertified data centers. That's added value to both the colocation vendor, and the potential clients. Less time assessing, less time in validation means faster implementation, resulting in win-win for client and colocation facilities.
Advantages for Private Data Center Owners
As a data center owner, what keeps you awake at night? Few things are more career inhibiting than receiving the call: The data center has just gone down. Certifying a design and build won't guarantee you 100% availability, no one can do that, and if they do, you should be skeptical. Facility Certification does provide awareness of operational risks, design risks, and serves as a basis for managing the gaps. Regardless of your facility objective: Tier III, Rated-4, FC02, knowing where you stand against the design standard the facility was built to is power in your hands. It's also money in your bank account. Consumers and potential clients are increasingly interested in the benchmark of the data centers of businesses they entrust with their data, their operations, and their livelihood.
Advantages for Both
Regardless of the purpose of the data center, certifications make sense, and add value. They are also the foundation for operational excellence, and server as a baseline for improving data center operations, in Human Error Management and Outage Reduction, as well as in operational costs reductions, and reliable maintenance practices.
 The GDCE Difference
Global Data Center Engineering has the resources that helped to forge many of these standards. Our staff understand deeply the genesis of each of these standards, have lived them since their creation (1997, 2005, 2010), and have grown along with the standards as they have evolved over the past two decades. We are an industry leader in Facility Certification, Design Certification and Facility Audit.
GDCE has the expertise, the experience and the certifications to conduct design reviews to these standards. Our team can provide certification to design and facility build (TIA-942, BICSI 002), and provide Audit validation for design and build under Tier Standard: Topology. (Only Uptime Institute may issue a certification to Tier Standard, however, we have a proven track record of ensuring designs and as-built facilities can achieve Tier Objectives. GDCE provides guidance through the TCCD (Tier Certification of Design Documents) and TCCF (Tier Certification of the Completed Facility) processes with the Uptime Institute. GDCE acts as liaison between Uptime Institute and enterprises to ensure the Tier Objective desired is obtained, while reducing cost and risk of a failed certification attempt.
Contact us today, and we can discuss how we can help with your certification needs.
---