Design Certification
---
An important step in ensuring your data center is designed to meet expectations of your business requirements and performance objectives, is the conducting of Design Certification. A design certification may be undertaken for a couple of different reasons: First, to ensure during the design stages of a data center build, that the objectives of the design intent are met. Second, a design validation may take place as part of the process of a Facility Certification.
Design Validation at Design Stage
Validating designs during the design stage is also sometimes called a "Peer Review". This validation should be performed by an independent group that may also serve later as commissioning agent for the as-built site. Peer Review (Design Validation) helps to ensure that design intent is met. The reviewing agents examine for meeting of design objectives, and also for potential inhibitors, restrictions or impacts to long term operations, and remove them while still at design time. (Some we have seen are issues impacting mechanical systems, such as CRAC placement, CRAC redundancy misconceptions, and heat exchangers placed behind generator exhausts, to name a few). Design Validation is a quality assurance checkpoint in the design process.
Design Certification as Part of Facility Certification
When Design Certification is a step in the Facility Certification, this step serves to identify potential issues that my prevent achieving a design objective. This enables the data center owners and stakeholders to remediate inhibitors to facility as-built certification intents. It may also help to identify what level or what standard to certify to. Many data centers are unknowingly designed to a particular standard or "best practice". Each of the three major global standards (TIA-942, BICSI 002, Tier Standard: Topology) all have as their central theme four "Levels" of resilience. Some call it Tier, some call it Rating, others call it Facility Class, but they all have 4 levels, and they are all defined in the same broad description: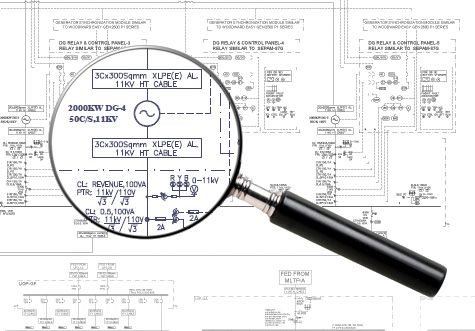 Level 1 – Basic Components (No redundancy, single pathway)
Level 2 – Redundant Capacity Components (Redundancy of the critical components needed to keep the data center running, also single pathway)
Level 3 – Concurrent Maintainability (Redundancy of critical components, and redundancy of pathways, with one active and one stand-by)
Level 4 – Fault Tolerant (Redundant components, redundant pathways, both active – able to sustain loss of any one component or pathway, without loss of the IT Load)
How each of these standards achieves these 4 levels does differ. So the design validation helps to identify which standard the data center best aligns to. In this way, we save our certification clients time and money, while working with them to achieve the objective they seek, with a standard that matches their design. After all, there are many solutions of equal value and capability to the same problem, and that is the difference between the three global standards supported by GDCE. There is more than one "right" answer to this problem.
For all of our certification processes, we utilize the same global standard ISO 19011 practice for auditing of technology systems, with highly qualified auditors and engineers, ensuring that you have a clear picture of the capability, reliability and operability you expect from your data center, or data center provider.